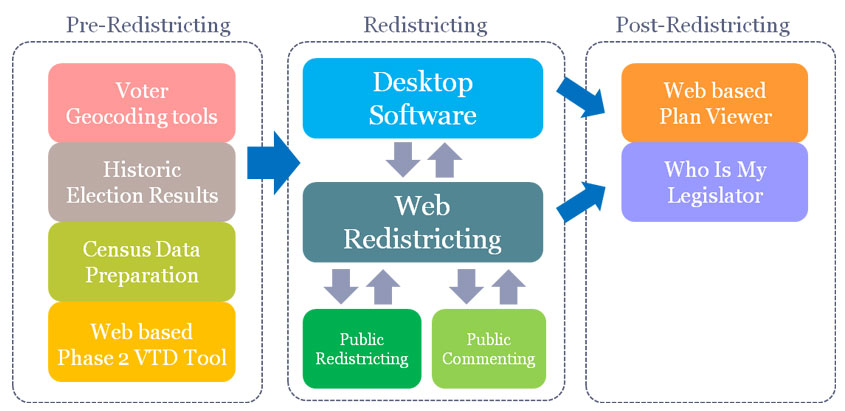 Performing redistricting for state legislatures, politcal parties, and large organizations requires much more than the task of assigning areas to districts. Long before the process of redistricting begins, historic and voter data must be tabulated and processed, precinct boundaries must be updated and validated. These processes require software and technical resources, and can take many months to complete.
Once the redistricting process begins, there can be requirements for public participation, public commenting periods. Plans may need to be introduced as legislative bills, easily accessible by members who may be voting on them. Once plans have been enacted, a legislator lookup tool may be required.
Over the past 2 decades, Citygate has been implementing many of these technologies for our customers. While technology in each area has rapidly evolved, they have remained as isolated stove piped solutions developed by a variety of vendors.
Citygate's Enterprise Redistricting Solution changes this dynamic, integrating desktop and web based redistricting with public commenting and plan viewer tools. Each component in the Citygate redistricting platform will work to implement the larger enterprise solution.
Users can choose to implement one or any combination of the solutions which fits their needs. If desktop redistricting is the only requirement then that solution can be implemented without the need for any additional products. However, if at a later date, the need for a web viewer arises, the functionality can be purchased or added as an online service.
This approach will allow redistricting to be implemented as a cost effective integrated solution rather than a patch work of incompatible products.
---
---